Why Customer Experience is Important
I am sitting right now in the Bahamas and my wife and I are celebrating our 14-year date-versary.
We're also here doing a little work planning for our quarterly meeting that is coming up and we are staying at this nice resort.
And we just had an experience that really made it clear for me.
What is the difference between great customer experience and extraordinary customer experience?
This hotel that we're staying at is very nice but there are multiple hotels as a part of the same hotel.
I don't know how to say this without sounding snobby, but we're staying in the luxury part of the hotel and because we're staying in that part of it, we get access to all the other parts of the hotel.
And we went over to see the sunset at a different part of the hotel and ate at a little restaurant there.
It was such a different experience there than it was here in the luxury part of the hotel.
And why is that?
If you look at hotels, it's a commodity where it's a place to sleep, to lay your head.
You ask what makes it different from all other hotels?
This question is important for any small business owner or any business of any size.
If you're a realtor, what makes you different from the next realtor? Or a financial advisor? Or if you sell supplements? Or if you sell video courses? Or if you sell cars?
What makes the difference is that many times the most noticeable difference is in the customer experience.
It is in the differentiation, not in what you sell or what you offer, but how you sell it.
What is the experience like for the customer to buy it?
This points to an important and meaningful question.
What creates an extraordinary experience and what is the difference between an extraordinary experience and an average experience?
How to be Different?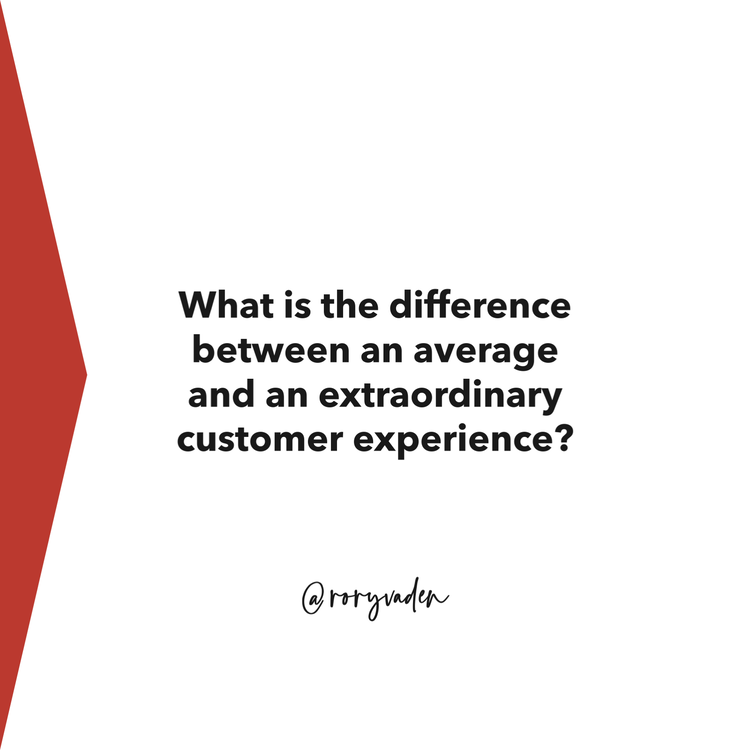 This luxury section of the hotel, I presume, is much pricier than staying in the other part of the hotel.
Technically, it's the same hotel except it's just next door.
Even if you say, "Well, the hotel in the Bahamas is different than a hotel in Cabo, San Lucas."
Yes, they are different to some extent. But even on the same property, with the direction of just 200 yards between the luxury hotel and the other one, both have the same location, same weather, same property, same views, but somehow what is the difference?
And here's what it is.
I don't think it just comes down to nicer rooms.
It comes down to extraordinary experiences.
And there is one big difference between the world-class experience and everything else.
And that is world-class customer experience doesn't know the word "no".
Customer Service Experience Examples
When we were at this other restaurant that we just came from, we were watching the sunset. My wife was asking for champagne, and they did not have it.
Now throughout this trip, she has had champagne (I don't drink) which means there is champagne, not only in the Bahamas but also in this hotel resort.
She asked the server if there's a chance somebody could go to our room and grab the glass of champagne that was leftover from the previous night.
The server could have said no since it is not their policy. They could have told us that they do sell champagne in the different part of the hotel and if we wanted it, we would have to buy it.
Do you know what they said? They said, "Absolutely. We'll send someone up right away."
And not only did they go get the champagne from our room, but they also brought it down in a chilled glass and had set the champagne in a bucket of ice so that when it came, it was nice and cold at the beach.
And they didn't make any money from it. We were willing to pay.
We were willing to buy champagne from this other place. But the answer was no, we also asked if they have any snacks? And they said, sorry, we don't serve food here.
Please don't misunderstand me. I'm not complaining. That's not the point of this story.
I wasn't upset or mad. I'm not a total snob.
I am telling you the story because it illustrates such a subtle but significant difference between average and extraordinary experiences. In an extraordinary experience, the answer is always yes, or let's see what we can do.
The other customer service experience we had was that our room was really hot.
In big resorts, such as this one, they often limit how cold you can make the room.
Our room was really hot even though technically, it said it was 68 degrees.
When we mentioned it to the hotel, they apologized and offered to see what they can do about it.
A little while later, somebody knocks on our door and they explained to us they couldn't do anything about the temperature in our room but offered us a fan.
The answer wasn't "No." The answer was, "Let me see what I can do for you."
That is an extraordinary experience.
In fact, in customer service, they sometimes call this the milkshake test.
If you go to a restaurant and wanted to order a milkshake, chances are they do not have milkshakes on the menu.
By the way, this is how to tell if there is a well-trained staff at the restaurant.
Even though milkshakes may not be on the menu, almost every restaurant has ice cream, milk, ice, and a blender. All the ingredients needed to make a milkshake. A well-trained staff will respond with, "Let me see what I can do to give you a milkshake". They would explore options to give me a milkshake.
In an average customer experience, the answer is "No, I'm sorry. It's not on the menu. We cannot give you a milkshake."
Again, I'm not complaining or upset. I understand policies.
But if you want to provide extraordinary experience versus average experience, the answer needs to be "Yes" or at the very least, "Let me tell you what I can do."
Don't tell your clients what you can't do.
Ask for a moment to figure out what you can do.
And even if the answer comes back as no, typically there's always something you can do, even if you can't satisfy their request.
That is an extraordinary experience.
That is differentiation.
That is something that people are willing to pay much more for.
How are you creating an extraordinary customer service experience for your customers? Comment below.